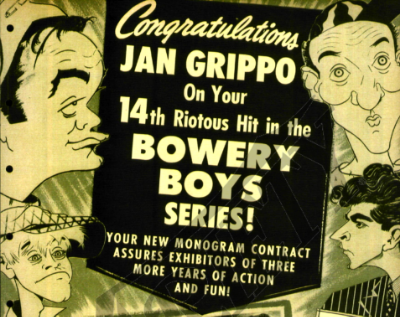 It's Bowery Boys week! As previously mentioned, for the better part of the last year I've been working on a documentary about the Bowery Boys (and their earlier incarnations, the Dead End Kids, Little Tough Guys and East Side Kids) with the wonderful folks from
Handshake Away Productions
. I'm acting as an Executive Producer, Creative Consultant, Writer and more. Click
here
for our imdb link.
Later this week, East will meet West as I travel from the New York area to California to meet (for the first time) my fellow Executive Producers, Colette Joel and David Key to film some new interviews, and review and select footage for both a teaser trailer and official trailer, as well for the documentary.
In anticipation of my trip and our first "in-person" collaboration, I hereby present the trailers from most of the East Side Kids horror-comedies (I don't have a trailer for
Boys of the City
) as well as all of the Bowery Boys horror-comedies. Plus a few bonus "horror-onable mentions" and some clips from previously filmed interviews for the documentary itself. ENJOY!
EAST SIDE KIDS:
BOWERY BOYS:
"HORROR-ONABLE" MENTIONS:
BOWERY RHAPSODY: THE RISE & REDEMPTION OF HOLLYWOOD'S ORIGINAL 'BRAT PACK'
: