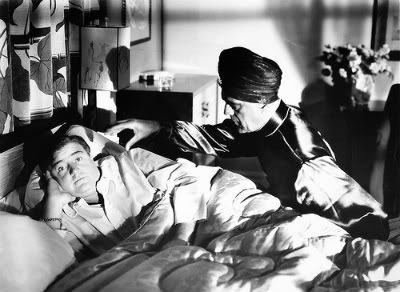 Last week I noted the
anniversary of Stan Laurel's passing
46 years ago on February 23, 1965.
I must say I am remiss to not have done the same for Lou Costello this past week. We lost Lou 52 years ago on March 3rd, 1959.
Thankfully history... and the calendar... allow me to make quick amends and pay tribute to Lou as well as it was 105 years ago today that Costello was born, on March 6, 1906.
While Stan Laurel is my favorite movie comedian of all time (and Laurel & Hardy my all-time favorite comedy team), within the realm of the "horror-comedy" genre, Abbott & Costello are the undisputed champs. A big reason for that is few comics could wring as much laughter out of being scared as Lou Costello.
Of course, Costello had the very good fortune to perfect his "scared routine" at the best possible studio: under contract to the "House of Horror" Universal Pictures, Lou got to cavort with such monster legends as Dracula, the Wolf Man, the Frankenstein Monster and the
Mummy
, plus a spin-off of the
Invisible Man
that was more mystery than horror, but still a nice nod to James Whales' classic. As was "
Hold That Ghost
" with its "old dark house" (a la Whales' "The Old Dark House"), phony ghosts and secret passageways.
Additional horror paces the studio put Costello through included nods to movie history in the form of the studio's chief boogeyman Boris Karloff playing
Dr. Jeckyl and Mr. Hyde
as well as a mysterious "swami" character in "A
bbott & Costello Meet the Killer, Boris Karloff
" that resembled some of Karloff's sinister mad doctor roles; and Margaret Hamilton matching wits with Costello as she played... what else?... a witch in "Comin' 'Round the Mountain!"
Here's Lou at work in some hysterical outtakes from "
Abbott & Costello Meet Frankenstein
." Pay particular attention to the sequence wherein Costello's antics crack up cowboy-star-turned-monster Glenn Strange, made up as the Frankenstein Monster but unable to contain himself... and revealing his deep southern drawl of a laugh in the process! Here's to you, Lou!