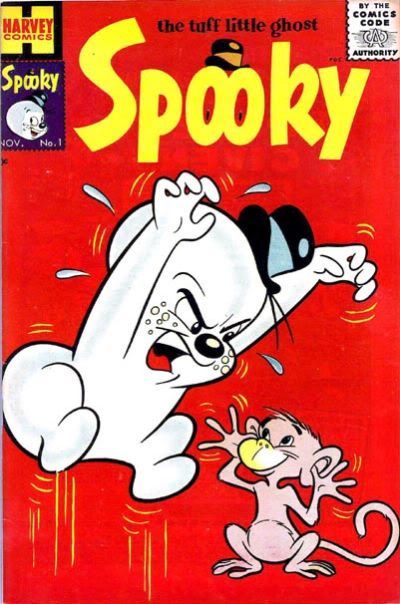 A tip of the bowler derby to legendary animation writer/artist/director and comic book writer/artist Howard "Howie" Post who has passed away.
I'll point you to other worthy blogs for details on Post's career and reminiscenses of his work, including thoughts from foremost authorities like
Mark Evanier
,
Jerry Beck
,
John Kricfalusi
and
John Kricfalusi
yet again. Just click on their names to read their posts.
Post did much in his career. Fans of this blog will be most interested in the work he did on DC's Bob Hope and Martin & Lewis (and solo Lewis) comics, and even more so, the wealth of material he did for Harvey Comics.
Harvey you'll recall had an entire universe of "horror-comedy" characters with ghosts like Casper, Spooky the Tuff Little Ghost and the Ghostly Trio, along with Wendy the Good Little Witch and Hot Stuff the Little Devil and a ghost... er
host
... of others.
Mykal of The Big Blog of Kids' Comics reprinted some classic Spooky stories late last year -
click here
to take a look and you'll get a great appreciation for Post's work - the best tribute of all. So here's to you, Howie... thanks for all the fun art over the years!