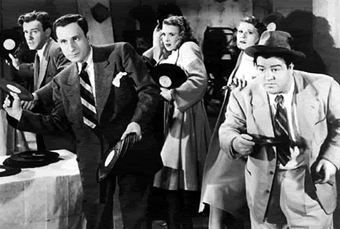 Just a quick note to let you know you can now easily access any of my past movie reviews via the alphabetical list on the sidebar to the right of your monitor screen. Special thanks to Andre Dumas for tipping me off to Blogger's "list" gadget! :)
Andre is wonderfully witty and you can read her reviews of more contemporary horror fare (the intentionally funny, the unintentionally funny and the not funny at all) at her happening blog,
The Horror Digest
.
Later this week on the Scared Silly blog: Don Knotts proves he is brave (or crazy) by spending the night in a haunted house in
"The Ghost & Mr. Chicken."
Until then... it's always a good time to enjoy some wonderfully bizarre and creepy 1930s animation, this time courtesy of the Van Beuren Studio and their star characters, Tom & Jerry (no, NOT the cat & mouse duo but an earlier pair of animated humans... or something!)