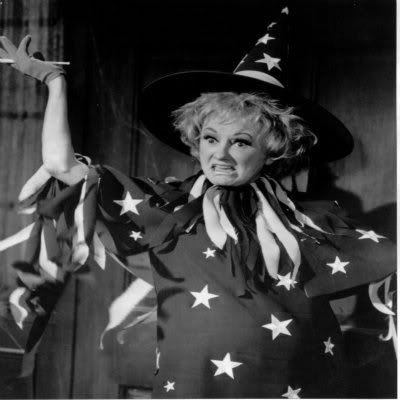 Pioneering comedienne Phyllis Diller has left us. I'm not going to delve too deeply into her career here, but I encourage you to poke around the internet and read all you can about this creative and courageous performer.
Here at Scared Silly, we're all about horror-comedies. Diller flirted with this motif. In her stand-up act, she referred to a husband named "Fang." It was vague - not overtly "horror" in content but that coupled with her outrageous look - her spiked hair, often garish make-up and odd outfits - made her sort of a comically off-kilter mash-up of Cruella de Ville and Lily Munster.
This sometimes led to appearances on variety and kid shows in Halloween-themed skits (at least that's how I remember her - my memory could be faulty - but in the 1970s she seemed to be the funny "go to" ghoul gal the same way that Vincent Price was the funny go-to ghoul guy).
Even if my memory on the above is a bit fuzzy, one thing is clear: Diller was a major part of one of the greatest horror-comedy films of all time,
Mad Monster Party
. In tribute to Phyllis, I now present this encore review of
Mad Monster Party
:
Today we take a look at a movie that falls outside the parameters of SCARED SILLY'S criteria for inclusion in the upcoming book of the same name, as it was released the year after our cutoff date AND it is animated, not live-action.
Still, this film is such a huge part of the
"monster kid"
era and such a big influence on my love of horror-comedies in general that today I've decided to highlight…
*** & ½ out of ****
I'm not going to write a full-fledged review here nor follow the ususal SCARED SILLY blog format, but rather I'll give you a brief overview of this film and point you to some sources where you can learn more about this wonderful film.
To the uninitiated, think of "The Mad Monster Party" like this: the all-out mayhem of Universal monster rally films like
"House of Frankenstein," "House of Dracula"
and
"Abbott & Costello Meet Frankenstein"
meets the engaging stop-motion animation (dubbed "
Animagic
") of Rankin-Bass Christmas specials like
"Rudolph the Red-Nosed Reindeer"
meets the spooky trappings of the mixed-media animated
"Tim Burton's The Nightmare Before Christmas."
Throw in wild
Mad Magazine
style humor and satirical jabs at then-current 1960s crazes like
James Bond
,
Batman
and the
Beatles
(I defy you not to hum along when the all-skeleton group Little Tibia & the Phibias sing "
It's the Mummy
") and you've got a horror-comedy classic!
The story: Dr. Frankenstein is ready to retire, and invites all the monsters to his castle to break this news (and possibly reveal his successor as ruler of all monsters), as well as his discovery of a new anti-matter potion.
The voice-over by Karloff as Dr. Frankenstein is the kindly old "Uncle Boris" persona that monster kids had come to know and love in the 1960s – at least through the majority of the movie (until circumstances force him to get his ire up that is).
Included on the guest-list are the most famous monsters from classic horror-movies: Dracula, the Frankenstein monster, the monster's Bride (here a caricature of comedienne
Phyllis Diller
), the Werewolf, the Hunchback of Notre Dame (who seems to have inspired Disney's later version), the Invisible Man, a sea creature (like the Gill Man from the "Creature from the Black Lagoon"), the Mummy, an Igor-like character called Yetch (whose appearance and voice are patterned after
Peter Lorre
), Dr. Jekyll and Mr. Hyde, and an army of zombie soldiers (the "
White Zombie
" kind of zombies, not the brain-eating
George Romero
zombies).
Also invited: Frankenstein's nebbishy, nervous, allergy-prone nephew Felix Flanken.
Not invited, but sure to cause trouble is "It," a giant gorilla of
Kong
-sized proportions.
There is a lot of scheming, back-biting and double-crossing going on here as Dracula thinks he deserves to be the next ruler of the monsters, while the Bride thinks the Monster should be next in line.
Of course, the doctor is considering keeping things in the family with Flanken, so that puts Felix's life in jeopardy.
An interesting added-attraction of this movie is the character
Francesca
. The knockout redhead must surely be an inspiration for the Jessica Rabbit character from 1988's
"Who Framed Roger Rabbit."
Voiced by popular singer
Gale Garnett
, she even gets to sing a sultry number, a rousing anthem and the film's love song.
She also plays a part in the ending, which is yet another one (like
"The Ghost in the Invisible Bikini"
) inspired by the
ending of "Some Like it Hot."
In the New York City area, WOR Channel 9 used to run this film a lot (you can read a great blog posting about the movie and its NY airings
here
). In fact, for years it used to run it in a beat-up old print and whenever I came across it, I was sure to tune in. In later years the film was restored and ran on AMC (when that station's initials still meant they showed American Movie Classics, not Any Moving Crap as appears to be its current state).
The best thing about the film is that it comes from a time when many animated films and TV shows were designed to appeal to both children and adults at the same time, with smart humor that didn't "talk down" to kids. That shouldn't come as a surprise since two Mad Magazine alum were involved – writer
Harvey Kurtzman
helped pen the script and artist
Jack Davis
did character designs as well as the art for the movie poster.
(NOTE ADDED MAY 12: In the wake of the passing of legendary artist Frank Frazetta, it appears I erred in giving Davis credit for this poster - it has been cited by numerous sources as actually being the work of Frazetta).
The film really captured my imagination and I'm sure it will capture yours, too.
I'd venture to guess this film captured Tim Burton's imagination, too.
You can buy the original "Mad Monster Party" on DVD here:
The film even spawned a sequel – actually a prequel called "Mad Mad Monsters" which ran on
ABC's Saturday Superstar Movie
. Unlike its predecessor, it utilized hand-drawn cel animation instead of the stop-motion "Animagic" style, but it did retain some of Jack Davis' wonderful character designs. The plot was almost identical, except this time all the monsters were invited to the castle to attend the wedding of the Monster and his Bride.
The Retro Junk site has an excellent article detailing both the original movie and the prequel which you can
read here
.
The excellent
KiddieMatinee.com
site has a
nice review
that also gives some background on the film's fine soundtrack.
My father's godson Jerry Only from horror-punk legends The Misfits is also a big fan, and their website has a nice write-up on the film
here
.
You can also learn more by visiting both the film's
official site
and its
unofficial site.
And you can enjoy the trailer right here: