My pals Tom Hall and Daniel Bradford are about to release the second issue of their horror-comedy comic book series, KING! You may recall when KING! appeared in an earlier Scared Silly blog post - if not, then just
click here
to read it. Needless to say, this rock 'n roll monster hunter makes the perfect stocking stuffer - check out the press release for further details!
BUTLER, NJ (December, 2010) – 'Twas the week during Christmas and in comic shops, hardly any new comics had even come out. The shelves were all lined with the prior week's fare while customers wished some fresh ink would appear. When what to their wondering eyes should appear but a side-burned cool rocker displaying no fear. The King had come back to kick more monster butt and fans were relieved of the same old dull rut!
This holiday season, give that special someone in your life the gift that keeps on giving... a whupping! Yes, "KING!" is back with issue #2 and he's ready to make burrito meat out of zombies and vampires everywhere.
"When I think of holiday heroes, I can't help but think of ex-pro wrestlers who look like Elvis keeping the world safe from bloodsucking freaks," says "KING!" artist/co-creator Daniel Bradford.
"'KING!' is the perfect character to spread holiday cheer," adds writer/co-creator Thomas Hall.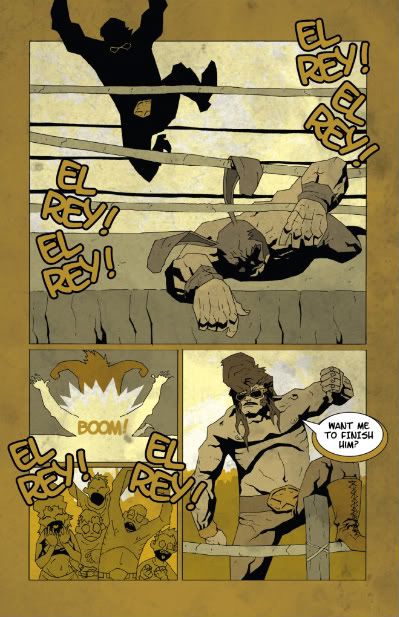 To that end, Blacklist Studios is wishing all their fans the happiest of holidays as they release the second action-packed issue of "KING!" during the usually slow week between Christmas and New Year's Day.
"Traditionally the larger distributors don't ship during the holidays," explains Hall, "so we decided to make something new and exciting available to comics fans so they don't have to leave their LCS empty-handed!"
"KING!" #2 picks up where the last issue left off. Having dispatched a horde of demonic zombies from his favorite Blubber Tubber Burger 'n Burrito joint, KING! now basks in the glory as he spins the tale in all is gory detail. But he hasn't seen the last of the zombies… and worse, he's been summoned to a nearby village that just happens to have one hell of a flying pest problem… the kind of pests that like to suck blood!
Like their breakout hit "R-13," the hero of the duo's new series is adept at dispatching monsters. But unlike Robot-13, "KING!" knows all too well who he is… and he's not afraid to have some fun as he bashes the baddies in this decidedly "comic" book.
"The ways that KING! kills monsters are only limited by our imaginations," says Bradford, "and if you haven't been paying attention, Tom and I have some pretty messed-up imaginations… but in a good way, of course!"
"Look, this guy looks like Elvis, battles monsters for bucks and is ready to read the riot act to anyone who gets in the way of his mouth and a burrito," confirms Hall. "Can it get any more 'comic'-al than this?"
Adding to the fun are pulse-pounding pin-ups from fan-favorites Jeff Slemons ("Hollow Earth," "Beyond: Rude Awakening") and AP. Furtado ("Heavy Metal," "Elf 'n Troll").
Fans don't have to stop with "KING!" comics, however – there's also a KING! t-shirt available on the Blacklist Studios website. No one will mess with you when staring at the pistol-packin', pompadour sportin' monster killer on your chest!
The print edition of KING! #2 can be pre-ordered directly from Blacklist Studios (www.blackliststudios.com). The 32-page, full color comic retails for $3.99 US. Back issues of KING! and R-13 are also available on the Blacklist site. For wholesale purchases, distributors and retailers are encouraged to email Blacklist Studios' Thomas Hall at tom@blackliststudios.com or contact Tony Shenton at shenton4sales@aol.com for terms and information.
...and as odd as this sounds, I've actually found a video clip of Elvis... fighting a monster... during the Christmas holidays!!! (with a keen eco-lesson embedded within to boot) ENJOY!