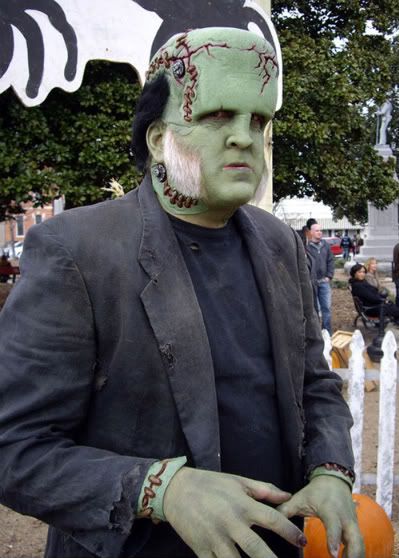 Every now and then I have to "give props" to Daniel Roebuck, the noted character actor who has graciously agreed to write the foreword to the book version of "Scared Silly." This year marks the 25th anniversary of the release of his first Hollywood film, "Cave Girl."
Right from the start Roebuck showed a flair for comedy as the science geek student on a class field trip discovering some mysterious crystals that send him back to prehistoric times… and into the waiting arms of the gorgeous title character!
There's more than a hint of Lou Costello in the trailer as Roebuck essays the same kind of naïve but girl-crazy character Costello perfected in such fantasy-themed films as "Abbott & Costello Go to Mars" and "The 30 Foot Bride of Candy Rock."
Also like Costello, Roebuck even met Dracula in the short family comedy film "How My Dad Killed Dracula":
Roebuck evoking classic actors like Costello is no surprise. Perhaps more than any other performer today, Roebuck, a huge fan of vintage comedy and horror movies is carrying the torch for the classics. His love for the old films is infectious and surely has an impact on those with whom he works.
To give you an idea of just how big a fan of classic horror films Dan is, just check out the "monster museum" he installed in his house:
Exclusive Halloween Tour Of Hollywod Actor's Monster Museum, Hau
-
Click here for the funniest movie of the week
Not convinced yet? Okay, how about a few minutes from the documentary, "The Happy Haunting of America" that Roebuck hosted?:
7 BEST Haunted Houses And Halloween Attractions
-
Click here for more amazing videos
Still not buying it? Well you'll change your mind once you see Danny and Wally Wingert in this music video tribute to 1970s' Saturday morning cartoon superstars the Groovie Goolies:
Danny is definitely into the "fun side" of horror, happy to mix his scary bits with comedy and family entertainment whenever he's offered the opportunity. This past Halloween he was a special guest on Disney TV's "The Wizards of Waverly Place":
Dan also recently appeared in director Larry Blamire's tribute to/parody of classic "old dark house" comedies, "Dark & Stormy Night":
In addition to his many film and TV roles, Daniel has also brought back the "spook show" – the special live performances that took place at movie theaters before the feature began (read all about spook shows by
clicking here
). Roebuck has delighted audiences with his comedic "Dr. Shocker" alter ego in a Halloween-themed act that combines magic and monster mayhem. Here's a piece of it:
Dr. Shocker isn't the only live stage horror-comedy character Daniel has played. Here he is in a scene from a January, 2009 Saint Francis Stage Company performance of "Arsenic & Old Lace" playing… who else?... Jonathan Brewster, the role originated on Broadway by his hero, Boris Karloff:
So what can I say other than "Here's to you Dan – thanks for keeping horror hysterical!"